If you want to sell effectively online, the key is to reach the widest possible audience, including many people interested in your company's offer. How can I do that? We recommend a combination of several types of promotional activities, which will make you more visible on the web, both for people who already know your brand and for those who are potentially interested in your offer, but have not yet made purchases in your online store. What marketing activities to combine?
To increase visibility in Google search results, bet on the synergy of SEO and Google Ads, thanks to which you can rank up to 3/4 of the results from the first page of search - and it is known that these are the most clickable. Join this promotional activities on Facebook and Instagram and through them build a purchasing need for people who may not even know that they need products available in your store.
SEO of the online store
The first step in building the visibility of your online store is SEO. Why this service? The first thing we do when we want to buy something online is enter the name of the product we are looking for in the Google search engine. We review the obtained results and click on the selected links leading us directly to the online store. Web users are rather lazy in this case and usually click on links that appear on the first page of search results. So, the higher your store is in Goolge's results, the greater the chance that it will be visited by a large number of potential customers. This is where the topic of positioning comes in.
The main purpose of this service is to "pin" the link to the customer's store as high as possible in the search list. How is this done? Well, SEO is primarily about the proper preparation of a website, and then its constant optimization, i.e. work on:
Then, you should add link building to it, i.e. acquiring links that will be placed in various places on the network (including content marketing) and whose task will be to direct to a positioned store. It is important that these links are published in valuable places, thanks to which they will be recognized by Google as worthy of attention, and the e-shop to which they redirect is worth recommending.
It must be emphasized here that there is no one proven recipe for success in SEO. There are too many variables, including but not limited to:
industry in which the client operates,
differences in key phrases,
market situation,
activities carried out by competitors,
the specificity of the company.
There are, however, constant templates for actions taken, thanks to which it is possible to achieve high positions in a relatively short time. Importantly, SEO is a long-term activity, you have to wait several months for the first results, and in some industries - six months or even a year. However, when the results appear, they are quite persistent, so the link to the online store stays at a given position in the natural Google search results for a long time. And thanks to constant optimization measures and new links, the position of the website grows (this cannot be achieved without the constant work of the positioner). However, any stagnation in activities may turn out to be unfavorable to the position of the party. In order for it to retain its position, and also to have a chance to constantly improve it, it is necessary to act not only effectively, but also continuously.
Take a look at the chart of one of our clients who runs a medical office. You will find there information on how many key phrases (which we chose for him and then positioned) his website is displayed in the top 10 of Google search results since the beginning of our cooperation. Such effects can be achieved with systematic and skilfully conducted activities.
Source: analytics.google.com
You should also know that an optimized online store that has a strong link profile, even if it has not yet achieved a high position in the Google search engine, is considered by it as an important page, thanks to which the products, categories or content added on it are automatically positioned at no additional cost , thanks to which the ranges are increased.
Natural results in the Google search engine are the most trusted among Internet users. You also need to know that the first 3 results are most often clickable. So the higher your store is ranked, the greater the chance that it will be visited more often by network users.
Do you need help with positioning? We will conduct an SEO audit for you and implement recommendations.
This is also where Google Ads comes in handy, displaying above the natural search results and focusing some of the users' attention. Imagine your store's links topping both your paid and natural results. This certainly increases the chances of shopping with you.
Google Ads - how to promote an online store?
Promotion of an online store should be based on the synergy of many marketing activities. The perfect combination is advertising in Google search results and positioning. As we have already mentioned, when an internet user searches for a specific product on the web, he most often enters the name of the searched item into the Google search engine window. And then he clicks on the links that will be displayed to him, most often to compare several offers. However, if a user enters your website, they will most likely make a purchase on it, and at the same time will open the door to remarketing (more on that in a moment).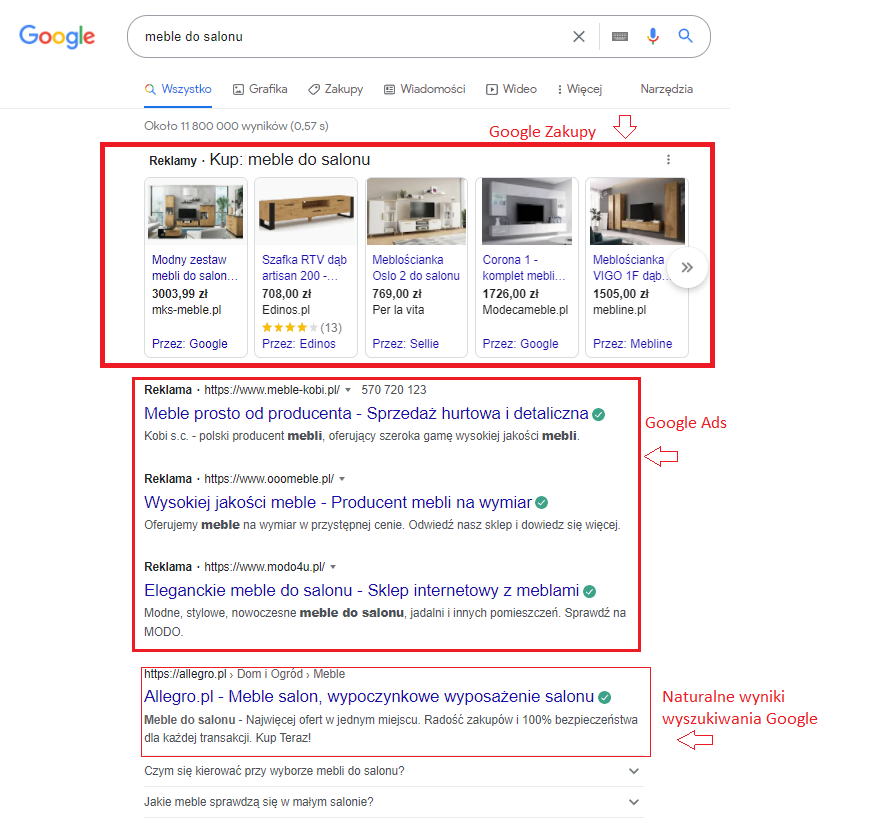 Source: www.google.pl
Positioning (especially for popular key phrases) takes time, and to become visible on the web right away, you need to additionally invest in advertising for the Google Ads online store. This is not only a way to quickly promote your online store in the Google search engine, but also a chance to help positioning if it is difficult to find positions for popular key phrases through it.
As soon as the budget is loaded and the advertising campaign is enabled in Google Ads, the online store advertisement immediately appears in Google search results. Remember, however, that when the budget is over, your ad will disappear from the web. This is why it is important to combine individual marketing activities - when paid advertising disappears, there is always a link in the natural results.
Below we present the results of our work for one of the clients.
Source: www.analytics.google.com
Google Ads - potential customer and his profile
Google Ads is not only about promoting your online store in the search network. It is also a Google Display Network campaign, i.e. banner advertising, advertising on YouTube or advertising in Gmail.
What distinguishes this type of online promotion from positioning is that in Google Ads you decide who will see your online store ad. You can precisely define, among others:
recipient's age,
sex,
family status,
professional activity,
the place where it is located,
keywords (the context in which the ad will be displayed),
the place where the link will lead,
devices on which the ad will appear.
It is also possible to target ads to users with different profiles depending on the selected ad format. An example of this type of advertising is a Gmail campaign.
Here, for example, the creation can be displayed only to users who have left their e-mail addresses in your store. It is worth taking advantage of it, because these are customers who know your brand and are interested in it. What is more, they have most likely already made purchases in your store or wanted to do it, so it is worth selling them something extra. A very effective marketing activity is the use of remarketing, i.e. an online store advertisement addressed to people who have already had contact with your store, added products to the cart, but e.g. did not buy anything. Each of these people is a potential customer who is ready to return to the previously abandoned shopping path and join the group of regular customers. However, it needs to be pushed a bit in this direction with the help of an ad - it can be both a text ad and a product campaign.
Google Shopping advertising
In the case of promoting online stores, it is worth paying attention to the Google Shopping service, which is characterized by a high conversion rate and a relatively low cost of acquiring a customer. It is an advertisement that we especially recommend to online stores as a good complement to promotional activities carried out in the Google search engine. Why? Because the Google Shopping ad is displayed both over the natural search results (achieved through positioning) and over the paid results (achieved through the Google Ads text ad). What's more, the search engine has a special Google Shopping tab, where the promoted products will also appear. But that's not all, your ads will also appear on the Google Graphics tab, on the Google Display Network, and on partner sites.
To run this type of store promotion, you need Google Merchant Center, Google Ads and Google Analytics accounts. What's more, the website of your online store must have an SSL certificate, and the website itself should be properly optimized and user-friendly. As this is a product ad, you also need to prepare a product feed, the so-called A feed with data about the products you sell in your store (the same file or a similar file will also be useful for running an advertising campaign on Facebook / Instagram).
By enabling a Google Ads campaign (regardless of its type), you open up a chance to reach a wide range of users who are ready to make a purchase and know what they are looking for on Google. But how do you reach web users who don't yet know they need your products? Here, an advertising campaign on Facebook / Instagram that sells, building a purchasing need with your potential customers, will work perfectly.
Need help with your Google Ads campaign? Contact us!
Facebook / Instagram Ads - how to advertise an online store on social media
The product campaign on Facebook / Instagram is to be not only a supplement to the promotion of an online store, but above all an extension of its scope. Until now, the marketing activities we described were intended to reach people who are looking for specific products on the web. Facebook / Instagram will help you reach those users who don't know they need something yet. Thanks to efficient advertising activities, you can awaken this need in them and thus not only increase the number of people visiting your online store, but also multiply your profits.
How to advertise an online store on Facebook / Instagram? First of all, you need to start by building a sales strategy. We know from experience that the so-called cold selling does not bring the best results. It is best to plan the next stages of the promotion as a sales funnel.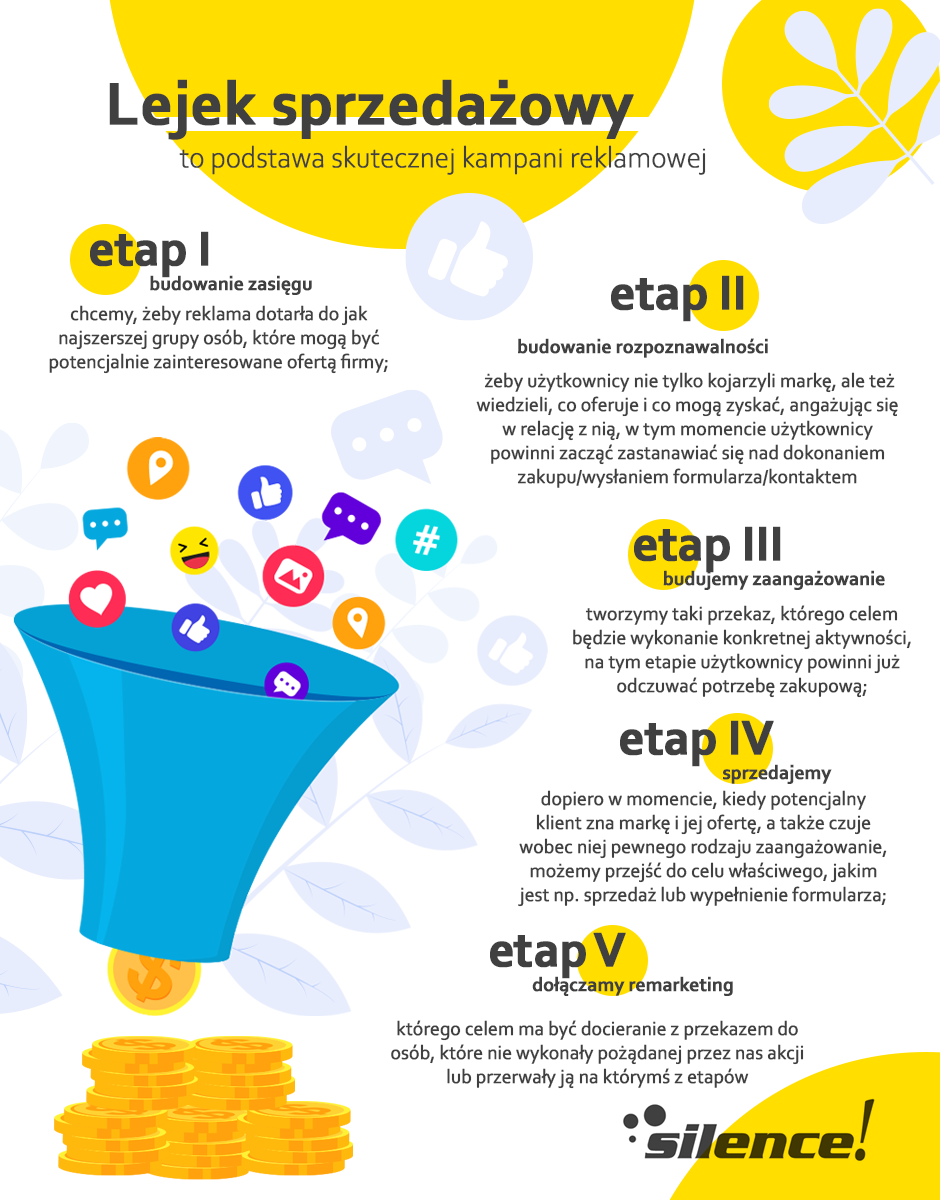 First, you need to get to know Facebook / Instagram users who haven't known your brand so far. At the same time, you need to build the largest possible reach for your campaign in order to reach the widest possible group of users who may be potentially interested in the products you sell. In the next stage, it is important that users who see your store's advertisement start to associate what they can buy in it. You need to use the right advertising message to build engagement that will trigger a purchasing need. Only then can you turn on a typical sales ad (preferably in a dynamic format - more on this topic can be found on our blog).
It is good to supplement such a campaign with remarketing. The goal here is to reach people who have previously visited your store, but have not performed the desired action on it. For example, you can prepare an ad directly targeting Facebook / Instagram users who have thrown some products into their carts but ultimately haven't bought them. An interesting option is the possibility of targeting a remarketing ad to people potentially interested in the products you sell. These are people who are similar to those who visited your online store, but do not belong to the lookalike's custom audience - it is Facebook's algorithm that selects them.
However, to be able to supplement your promotion on Facebook / Instagram with remarketing, you must first connect the Facebook pixel on the store's website. It is a piece of HTML code that will collect information about how the users who visit your store behave.
When it comes to promoting the ecommerce industry, Facebook offers advertisers a wide range of possibilities. There are both special advertising targets and ad formats that work well for online stores. They can be used after uploading the Product feed that we mentioned in Google Ads to the Ads Manager.
Below we present the results of our work for one of the clients.
Source: facebook.com
Advertising campaigns on Facebook / Instagram allow you to reach people who belong to the group of your potential customers, but do not use social media to buy something. Thus, the advertisement displayed to them has a difficult task - it must awaken the mentioned need in them, and then present them with a sales offer. After all, information about various types of promotions, sales or new collections appears most often in social media.
Sales campaing on Facebook - check our offer
Promoting the online store - synergy of marketing activities
If you want your online store to be visible on the web, or if you want to reach a wide audience and increase sales, and thus multiply the profits in your online store, focus on the integration of marketing activities. Only in this way can you use the potential of the Internet. Thanks to positioning, you will have a relatively stable position in natural search results. Thanks to Google Ads, you will get links placed above the natural search results, and thus you have a chance to occupy a large part of the first page of Google search results, which are most often clicked by people who are really interested in making a purchase. Thanks to Facebook / Instagram Ads, you will get a chance to find new customers who have not been aware of their shopping needs so far.
Are you interested in cooperation? Get in touch with us!